My port is currently deaccessed. It has been accessed in the same place, 24 hours a day, 7 days a week, for three years. Except when the needle is changed weekly, or it is briefly deaccessed for another reason, like to go swimming, it is accessed all the time. I feel much safer with it accessed as it gives me ready IV access in case of bad reactions or anaphylaxis. As much as I do not like needing a port, I am very happy to have it. It makes me feel much safer and more secure.
Last weekend, I accidentally tore the needle out of the port. I already have a permanent hole in my skin from being constantly accessed and it made the hole bigger. I was able to get it accessed again safely but something will have to be done about my access site. I may need to get a temporary line placed so that I can deaccess my port for a few weeks and give my skin a chance to heal.
For now, I'm deaccessing for three hours three nights a week and slathering my site with MML (magic masto lotion – recipe at the bottom) to soothe the skin and the site. Meanwhile, I just finished doing yoga on my living room floor, and am sitting here, thinking about my port, the absence of the needle, and the other absences my disease has rendered me.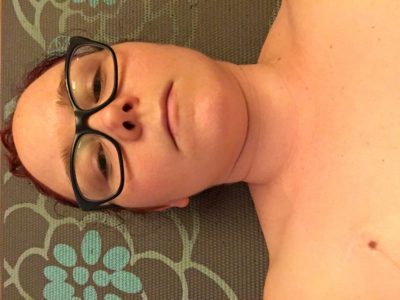 I didn't immediately realize what was happening when I started losing my hearing. I imagine it is that way for many people. It was springtime and I was training to once again walk 60 miles in 3 days for a breast cancer fundraising event. I walked a lot, 8-10 miles at a whack, people watching and getting lost in my head, music loud in my ears. When I noticed that the music wasn't as loud in my left ear, I assumed my headphones were broken. I bought new ones and shortly realized that I had the same problem. Because I am not overly bright, I bought new headphones AGAIN, only to discover that I was being targeted by a complex conspiracy to deprive my left ear of sound.
It was still a few days before I realized that all of these headphones worked fine and that it was my left ear that wasn't. I could hear in my left ear but it was dampened. I was also beginning to have balance issues. I will never forget the moment when I understood that I couldn't hear well on my left side and that there was no obvious explanation for it. I somehow just knew that this would not be something that could be readily fixed. I felt this wave of panic, electric and silent, hidden under the beat of my quickening pulse. Always there, waiting without a sound.
I was pretty terrified while I was losing my hearing. Over several months, I lost all the hearing in my left ear and most of the hearing in my right. I listened to music compulsively, constantly. I noticed the blank moments where there used to be notes. I noticed the empty spaces in words. It grew. This hollowness grew and swallowed all these pieces of the world where there used to be sound.
You learn to live around absence. It is an instinct to adapt to your environment. And even though my environment didn't change, it changed for me. It was both terrifying and fascinating. The way I interacted with the world was fundamentally changed. I was present in a world full of absence.
As strange as it sounds, when I lost my hearing, I wasn't terribly "sick". Like I lost my hearing but my overall, day to day functionality was still very good. It was over the next couple of years that things took a serious turn. And you get sick, like properly sick, you lost things. It's not always a lot at once but it is steady and unending. You lost friends. Opportunities. Money. Jobs. Dignity. A million little things and a lot of big ones.
One of the big losses for many of us with mast cell disease is food. I didn't start really losing foods in a significant way until late 2013/early 2014. Things picked up speed and soon I was down to very few foods that I could keep down that wouldn't trigger mast cell reactions or anaphylaxis. I have regained and lost a lot of foods in the last few years. This past winter was the worst patch in a while. I was mostly limited to liquids, and very few liquids, at that. I was still eating plain potato chips because without any other solids, I would wake up because of the hunger pains. I lost a ton of weight, a lot of muscle, and a whole lot of hope.
I started Xolair injections in late February. My expectations were pretty tempered but it was worth a shot. Within a week, I could keep down some solids. My stomach has become a lot of smaller and I still can't eat a lot of food at once but I can eat again. I can eat things I haven't eaten safely in years. I still react to certain foods but I don't seem to react anymore to the process of eating.
I am very aware that I could lose solids again at any time. For now, I'm just trying to be present.
*Magic masto lotion (MML): a cream applied to the skin for hives, itchiness, eczema, really any type of mast cell skin irritation. It is made by mixing liquid cromolyn with whatever your safe cream or lotion is. Some of us have prescription liquid cromolyn ampules while other people making it using over the counter Nasal Crom. I put about 3 ml of cromolyn liquid in a plastic bag, squirt some cream in there, close the bag, mix it up, and then slather it on wherever I want. Always speak with your health provider before adjusting your treatment plan.